Our Southwest Florida Dolphin & Manatee
Paddle Board and Kayak Adventure Tours
Ft. Myers
Paddle Board Tours
Marco Island
Paddle Board Tours
Naples
Paddle Board Tours
Sarasota
Paddle Board Tours
Come join us for a once in a lifetime experience that is great for all skill levels and ages. Get up close and personal with wildlife, such as the West Indian Manatee, dolphins, and more! With experienced & knowledgeable guides and high quality equipment your SUP tour is guaranteed to be amazing with great memories to share when you go home. Over the last 12 years our tours have been featured on many nationally televised shows, including recently being featured on the Travel Channel as one of the Top Tour Operators on the entire East Coast of America! Our tours fill up fast, so book your Dolphin and Manatee Adventure Tour today!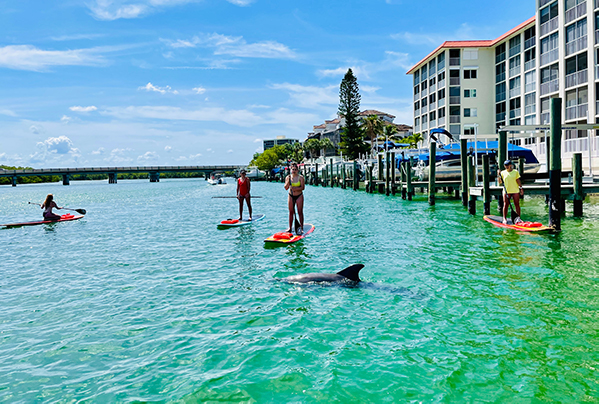 Information & Tour Tips:
Morning tours are best for seeing dolphins and manatees.
Our tours run 12 months of the year, please check each tour location for Tour Times and Availability.
Beginner Friendly! 95% of our guests have never tried paddle boarding, so we start all tours with a quick lesson. You can stand, sit or kneel on the paddle boards or we have kayaks available too!
Children are welcome at age 3 with an adult, children ages 6 and up can paddle on their own.
★★★★★

A great morning on a paddle board with a charming and competent guide! Jennifer was great. She taught me to paddle board, shared lots of info about the area, and even gave me ideas where to bike. We had a great morning!!

★★★★★

We loved our time on the paddleboards with Three Brothers! Our guide, Justin, was so nice and knowledgeable and made it a great experience! We definitely recommend renting boards from these guys. They made the process easy and even sent us great pictures of our day including some with a bald eagle in the trees over us. We will definitely do it again next time we are in Daytona!

★★★★★

It was quite fun for my wife and I even though I fell in water right away lol. Relaxing peaceful tour and Jennifer was great and patient.

★★★★★

The staff were awesome! Friendly and respectful, they gave thorough demonstration and provided engaging information throughout the tour. And what a workout! Fun for adults and kids!

★★★★★

"Absolutely loved this place! The staff was excellent and were so helpful! This was our first time paddle boarding and they were so helpful! Barrett was a great tour guide!! We got to see dolphins while on the trip!"

★★★★★

We had a great time Paddle Boarding. Dan and Barrett were great tour guides. We had no experience at all and they were very patient. I would highly recommend this excursion.

★★★★★

This tour was a wonderful way to spend a morning. It was so great to be on the water. Relaxing, easy and fun. Our tour guide Barrett was so helpful, entertaining and informative. Dan, from the shop, was also very personable and fun. He told us about how the boards are made and provided us with some restaurant recommendations. An all around great time!

★★★★★

We took a paddle board tour with Barrett as our tour guide & we were blown away! We have never paddle boarded before, and Barrett made us feel so comfortable and taught us the ropes! he was very patient and professional! we absolutely loved the experience & got to learn facts about different wildlife and history of Daytona! Office staff was amazing and would definitely do this again! Highly recommend Barrett as a tour guide & three brothers board for all your paddle board needs!!

★★★★★

It was a great trip and our tour guide Barrett was awesome!!! We got to see a few dolphins towards the end!

★★★★★

I had never been paddle boarding before and I thought Spence did a great job making sure everyone knew what to do and what to expect, it was awesome!!

★★★★★

We had a lot of fun, and it was an excellent experience. Thanks to Barrett, our tour guide, for that awesome experience. Looking forward to do it again.

★★★★★

We are outdoorsy people that wanted to try paddle boarding. Our tour guide, Dan, was super friendly and personable and made our whole group feel at ease as we took the 2 hour journey with some interesting tidbits and just a great time on the water!! I would def recommend!